Principal Wheeler's Weekly Update 3-10-23
Posted: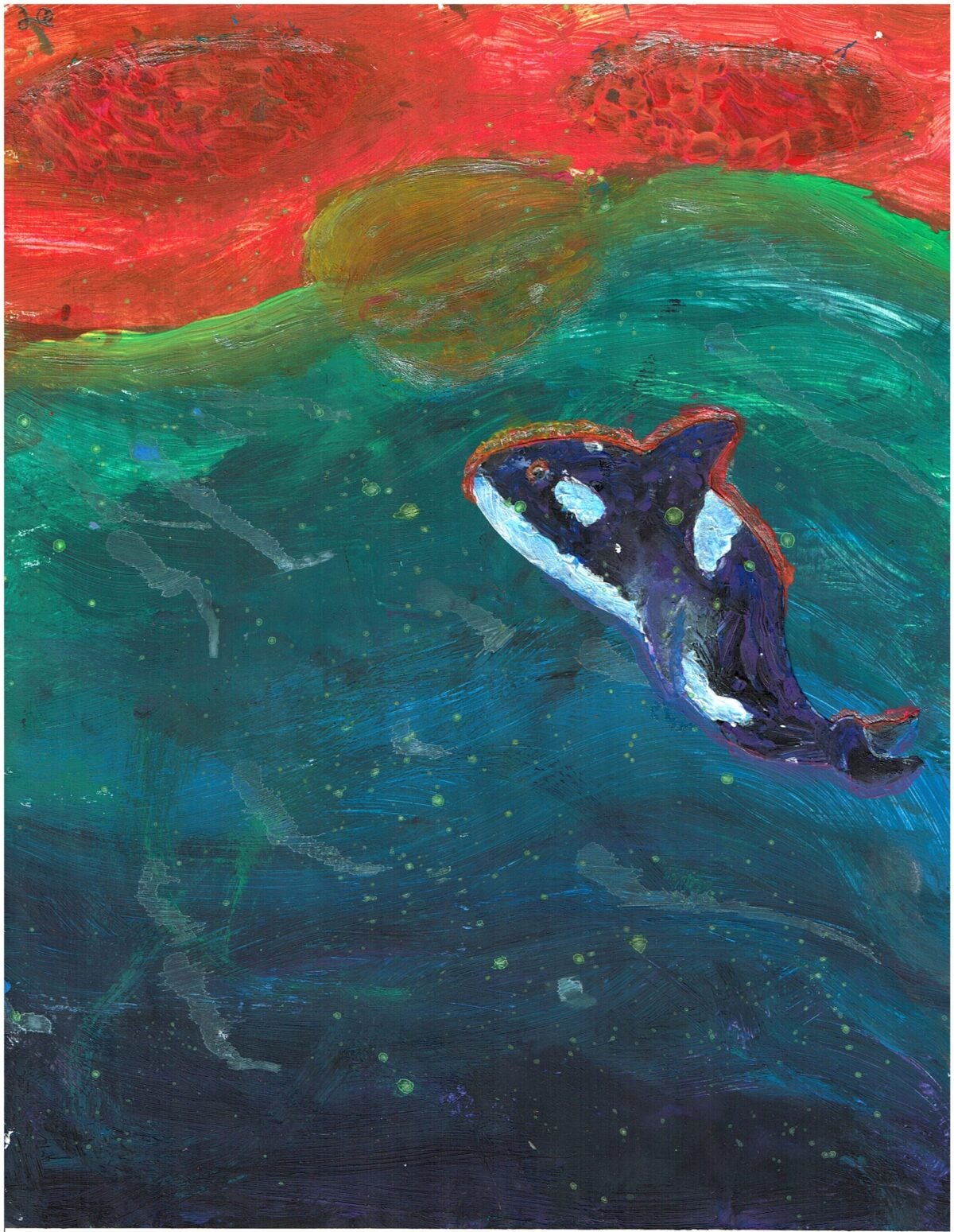 Hello Viewlands Families!
There have been new faces with guest administrators supporting Viewlands this week. I am grateful for the amazing team of administrators that have supported Viewlands in my absence. I am thankful to our Viewlands staff, many of which took on additional roles to support our students and community in my absence. Thank you to all the families that shared kind and encouraging words. My heart felt your love, support, and kindness!
YEARBOOK COVER ART UPDATE
It was another year of amazing yearbook cover art entries. We had 43 entries for the yearbook cover art contest this year! Thank you to every student that created an entry this year. This year we loved that we had many different mediums of art used in the entries. We had origami, mosaic paper art, watercolors, and markers, colored pencils, oil pastels and more. Every entry showed individual style and concept. We loved all of them. Every entry will be featured inside the yearbook.
Our winning entry this year was from 5th grader, Lula McMillan. Her entry will be the cover feature of our yearbook for the 2022-2023 school year. Congrats to Lula!
1st place – Lula McMillan – Mr. Thorpe 5th grade
Congrats to Ellis and Penny who were our 2nd and 3rd place winners respectively. Thank you to all the students that submitted an entry! Every entry will be featured inside the yearbook like last year.
2nd place – Ellis Osterbeck – Ms. Walden 2nd grade
3rd place – Penny Franklin-Bihary – Mr. Arango 5th grade
ARTS IMPACT
For the past two weeks we have partnered with a guest artist from Arts Impact. We are grateful for this partnership with Arts Impact through the generous funding support from VEPTSA. Guest artist, Sabian Pleasant, has been at Viewlands the past two weeks working with students during P.E. Sabian is an exceptional guest educator! We were thrilled to have him back again this year. Every student will be able to work with him four times. He will return Monday, the 13th for one day as a make-up for one day missed over the past two weeks. All students will have had the opportunity to work with him 4 times after Monday. The focus of the work with Sabian was movement, dance, rhythm, tempo and beats.
Thank you to VEPTSA for supporting the arts enrichment for our students through your generous funding. We know how critical it is to enhance the opportunities for students to engage in arts beyond our current program.
GLOBAL READING CHALLENGE
Today our Viewlands representing Global Reading Challenge team is going to the district competition, Team MARICKY. This team was comprised of 7 students, representing each 4th and 5th grade classroom, Yosef, Koa, Matthew, Isabelle, Clem, Abraham, and Ronin! We are all cheering them on as they compete against teams from other schools in our district. Good Luck Team MARICKY!
VEPTSA: Spirit Wear Update
Spirit wear that was ordered by families was delivered last week. We encourage students to wear their Viewlands gear especially on Thursdays. Thursday is our Viewlands School Pride Day. We encourage students to wear old or new Viewlands spirit wear or just wear blue on Thursdays for our Viewlands School Pride Day! Thank you to our VEPTSA partners for helping coordinate and organize the spirit wear.
VEPTSA Event Updates:
Spring Auction
Join us for the 2023 Viewlands Elementary PTSA Spring Auction on Saturday, April 1st from 6-9:30pm!
Come for an evening of fun as we gather together to support our Viewlands Elementary students. This year's Spring Auction theme is Under the Sea, which is a great way to celebrate our Viewlands Orcas! Visit https://viewlandsptsa.org/spring-auction/ and BUY YOUR TICKETS TODAY!
Important School Calendar Dates
Monday April 10th-Friday April 14th– No School, Spring Break
Monday, April 17th – Return to school
There are always highlights when listening and learning with and from our students. I missed seeing our Viewlands students this week! There was a consistent theme of things shared from our guest administrators, Viewlands students and staff are AWESOME! I couldn't agree more! Your children are bright, inquisitive, and creative thinkers.
In Partnership,
Carrie Wheeler | Viewlands Principal