Principal Wheeler's Weekly Update 5-12-23
Posted: | Updated: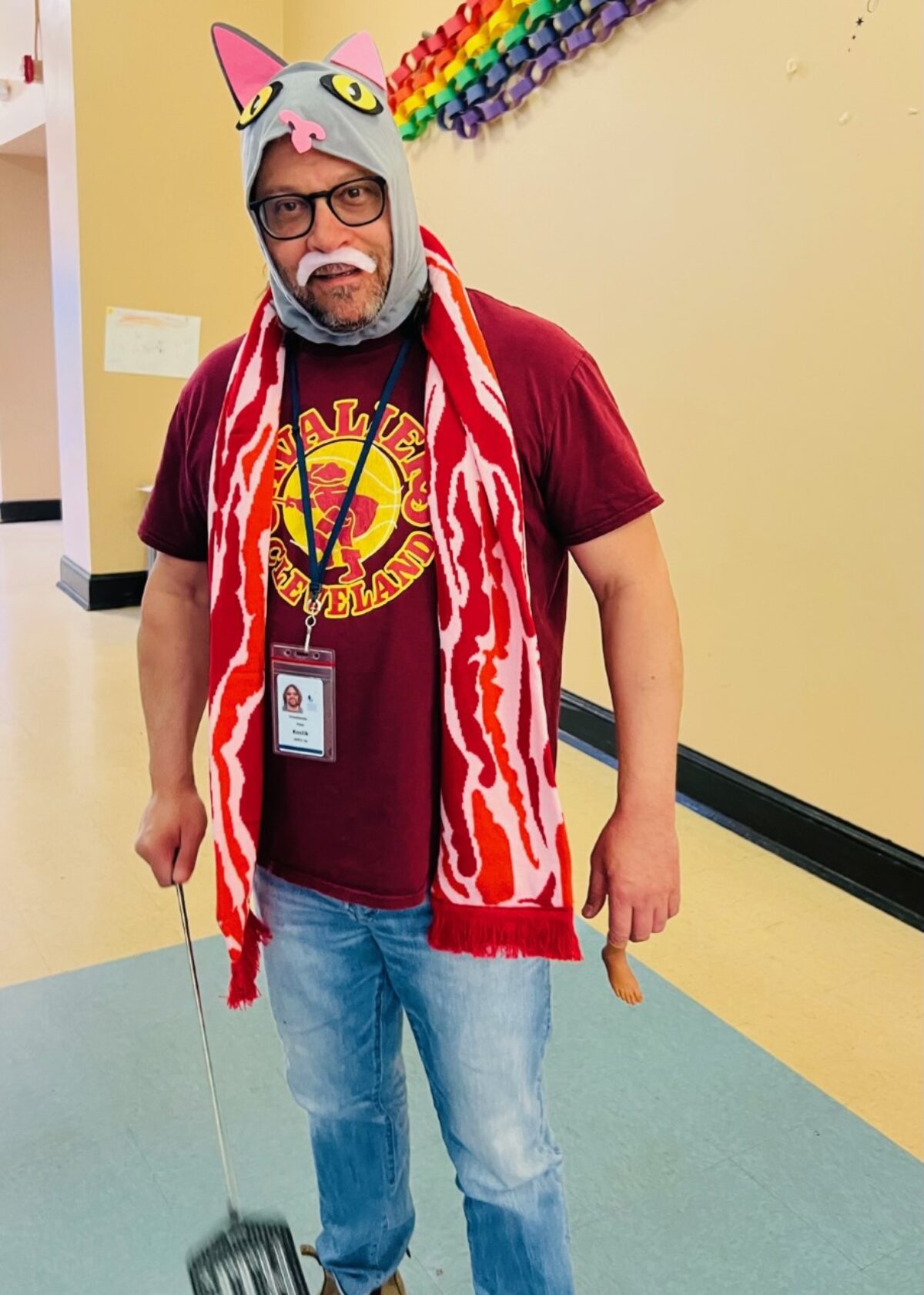 Hello Viewlands Families!
We finished listening to the second half of Poly Pride by Norm, a song celebrating the Polynesian community, during our Friday morning announcements. May is Asian American Pacific Islander (AAPI) Heritage month. AAPI Heritage month recognizes and acknowledges the history, culture and contributions of Asian American and Pacific Islander individuals and communities.
This week was Staff Appreciation week! It was a wonderful week! Staff felt loved and appreciated! Today the whole school was transformed with the beautiful flowers! Thank you to VEPTSA for coordinating a wonderful appreciation week! Thank you to all families for helping celebrate and appreciate the staff! Mr. Pete (pictured above) is showcasing his raffle prize.
A big congratulations to Teacher Valentine! He and his partner, Natalie, welcomed a beautiful baby Tuesday May 2. Baker John Valentine is healthy and happy! Clay is on paternity leave to celebrate the joys of his new family of three! Welcome to the Viewlands Orca Family, Baker!
Viewlands Frisbee Team
Our Viewlands Ultimate Frisbee team has their last game for the whole team tomorrow, Saturday, May 13 at 10:15AM at Magnuson Park, the fields behind the dog parks. It has been a very successful year for the first year of this program. Many thanks to the volunteer coaches, Teacher Valentine (prior to going on paternity leave), Coach Lauren, Coach Coppa, and Coach Kamal. This was a program through Disc NW organized by the volunteer coaches for 3rd, 4th and 5th graders interested that applied. I loved talking to students about the team as they learned about Ultimate Frisbee. One 3rd grader, Ramal, taught me how to use the Disc NW website to track team stats and to learn about all the different school teams!
A message from Coach Coppa: Thanks for a great season everyone! None of the players had played ultimate frisbee before and they were brave enough to try something new. Some had never played an organized sport. It's something to be proud of.
Congratulations to all the Viewlands Ultimate Frisbee team players!
P.E. Biking Program for 3rd-5th Grade
Our 3td, 4th and 5th graders are participating in a biking unit during their P.E. classes. This started this week on Tuesday, May 9th, and will go through Tuesday, May 30th.
There are still opportunities to volunteer! You must be an approved volunteer to support this activity. If you are an approved volunteer and willing to support during one or more of our classes, we would greatly appreciate the support. You can sign up on this link. You can sign up to support the class with your child, but we also invite anyone interested and available that is an approved volunteer to sign up to support other classes. We would love to have volunteers to make this as successful and supported as possible.
If you have any questions, you can reach out to Coach Lauren at lmbangasser@seattleschools.org
Save the Date: Viewlands Evening of the Arts Open House
Please save the date for our evening of the arts open house. This will be a time for families to walk through displayed art from students and meet and greet our ARTSWA muralist that will be painting a mural in the new building.
Wednesday, May 31st from 5-7PM
This is a family event. The event is open house style, meaning you drop in and visit anytime. We estimate families will want to be here 30-45 minutes to view the art and participate in the event. Students must attend with and be supervised by families. Please plan to arrive no later than 6:30, as we will need to end the event at 7pm.
We will need some family volunteers to help at this event. Our VEPTSA partners will be helping us coordinate this event. More information about volunteers coming soon.
Save the Date: Community Salmon Gathering
Please save the date for our 1st annual Community Salmon Gathering. We are hopeful this will become a new tradition for our school community. This event is for all families. The event is being organized and planned by a group of staff that are part of an integrated place-based ethnic studies team. This connects to our revisioning of Viewlands as we prepare to move into our new space next year, with a focus on relationships and community.
Thursday June 22nd 5:30-7PM
This is a family event. More details to come about the event, but we are hopeful many families will be able to attend. It will be in Carkeek Park.
VEPTSA UPDATES
General Membership VEPTSA Meeting & Nutty Squirrel Fundraiser – Tuesday, May 23rd 6:30-8:00PM
Message from VEPTSA:
Please join us for our last general membership meeting of the 2022-2023 school year on Tuesday, May 28th 6:30-8:00PM. We will meet in the John Marshall lunchroom. More information can be found on the website.
Nutty Squirrel Fundraiser: Tuesday, May 23 is (GELATO) Taco Tuesday | Nutty Squirrel @3pm-7pm.
More information can be found on the website
Important School Calendar Dates
Monday May 15 – Friday June 9 – Spring End of Year District and State Assessments
Monday, May 29 – No School, Memorial Day holiday
Monday, June 19 – No School, Juneteenth
Thursday, June 22 – Community Salmon Gathering, 5:30-7PM Carkeek Park
Friday, June 23 – Field Day
Friday, June 30 – Last day of school, 1 hour early dismissal, 1:25
There are always highlights when listening and learning with and from our students. This week I enjoyed playing with bubbles outside with kindergarteners and 1st graders; listening to the joyful laughter and conversations through the windows when 1st and 2nd graders from Ms. Otteson's class were exploring and observing with buddy 4th graders from Teacher Norma's class; reading with 2nd graders; a few students teaching me about a reading program they were using during independent reading time; hearing a few 3rd graders share with me how they are navigating a big change; and learning all about the different frisbee teams from a 3rd grader. Your children are bright, inquisitive, and creative thinkers.
In Partnership,
Carrie Wheeler | Viewlands Principal