Academics
Academics at Viewlands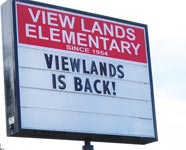 The academic program at Viewlands Elementary School is stellar. We embrace our vision of "Every child known, safe, inspired, challenged and empowered", and this is the lens we use to teach students in our community.
Students need to feel safe to learn, and by knowing every child, we better understand their interests, learning strengths and challenges, which allows us to inspire and offer curriculum and intellectual demand designed to challenge them at their own level.
Teachers use a variety of effective instructional strategies to engage all students and facilitate student learning. If you visit any of our classrooms, you will see students working independently, in partners, small and large groups or interacting with technology.
We believe learning occurs beyond the classroom walls and feel very fortunate that Carkeek Park borders our school and is considered part of our campus.
Curriculum at Viewlands
Our curriculum is aligned with other elementary schools in Seattle Public Schools. Please select a subject below to learn more about Viewlands curriculum.